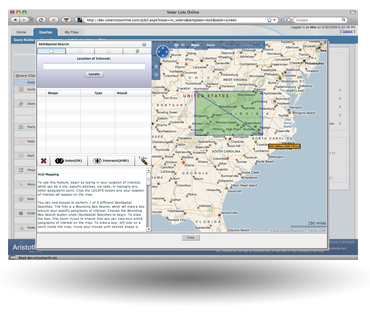 ...and NOW, Non-Voters and Donors as well. Data for political and non-political professionals. Your 24/7 source for the most accurate, current and highly detailed Voter, Consumer and State Donor lists available. 100% guaranteed.
Getting Started with VoterListsOnline.com

To Set Up Your Free Account and Get Started

Fill out a New Account Registration form
Read and sign the user agreement (you'll be prompted to do this when you've completed the new account form) – there is no obligation to purchase at this stage, we simply ask you to sign in order to verify your organization.
Start building your list based on any data element - state, election district, age, gender, income, voter history, etc. We're adding new data elements all the time, and we update our data every 30 days. Once approved you can purchase and download your data using any major credit card through our secure server. You pay just 3 cents per voter. Online Chat Help is available to help you locate the voters you want

Questions? Contact us anytime at (800) 296-2747 or

[email protected]

Why do I have to be approved?

VoterListsOnline is a service for political campaigns, candidates, and consultants. Because the security of personal information is paramount, we must verify your identity and that for voter file access you are requesting data for valid use*. We do not provide an online lookup service to search by individual name or address. If you wish to look up your own voter registration status, check here. *Use of and access to voter list data is restricted in some jurisdictions.

Think it's OK to Robo-Call or Text Cell Phones?

Fine: $16,000 per call

Run a Free Cell Phone Analysis on your Phone List.

Only Aristotle Guarantees against fines for Robo-calling a cell phone.

The FCC's new policy threatening massive fines for political robo-calls or texts to cell phones and other mobile devices is no joke. Aristotle has implemented a Safe Harbor Protocol to protect you if you use our voter lists for calls within 10 days of downloading. If you've already got a list and want us to scrub it to remove cell phones before robo-calling or texting, we can do that as well. Guaranteed. Please contact us via email or call us at 800-296-2747 or more information.

Voter Emails Now Available!

You now have the ability to append valid, verified personal emails to the voter records

Now you can get emails for registered voters in your 2016 election district.

All emails are verified and scrubbed with Aristotle's Data Hygiene Systems to remove opt-outs and assure delivery.
Never pay for bounce backs or unsubscribes. Unconditional Aristotle 100% email delivery guarantee.
Contact us at (800)296-2747 or at

[email protected]

Your Membership List & Aristotle's Voter File

A Perfect Match

Does your organization need a fast and reliable way to determine if your members are registered to vote? Aristotle can assist you in this process with its nationwide voter match service. Though most non-profits and associations cannot support a specific candidate or campaign, you can ensure your members are registered to vote, educated on the issues, and GET OUT THE VOTE on Election Day.

Aristotle's nationwide voter file of over 190 million registered voters allows you to do this by matching your organization's membership list to our file. In this process, we standardize all addresses to USPS standards for mailing, run National Change of Address to verify updated addresses, append political districts at state and federal levels, append phone numbers, and match our nationwide voter file and all enhancements to your membership list.

In addition to determining if your members are registered to vote, Aristotle can append specific demographic information from the voter file reported by the counties and states and from consumer enhancements. Here are some of the fields, among many others, we match to your file:

Age & Birthdate
Race & Ethnicity
Gender
Party Affiliation
Lifestyle Choices
Education & Wealth Level
Family & Children
Donors to Political, Arts, Welfare
Marital Status
Hunting & Fishing
Super Voters
Registration Date
Business Owner
Own vs. Rent
Emails
Cell Phone Numbers

Please feel free to contact me at [email protected] if I can answer any questions or provide additional information. I look forward to the opportunity to working with you and your organization towards great success.